Studio Devil Virtual Guitar Amp II
Guitar Amp Modeling and Effects Plug-In for Mac and Windows
(VST, Audio Units, and ProTools RTAS)

Virtual Guitar Amp II is a guitar amp modeling and audio effects plug-in using ToneBrain™ technology for use with VST, AudioUnits, and ProTools RTAS compatible hosts running on both Mac and Windows platforms.
Features:
18 Preamp Models cover every range of playing styles and modeled using Studio Devil's proprietary digital vacuum tube modeling technology...nothing else sounds as real as Studio Devil because it uses exclusive and patented tube modeling algorithms!
Authentic Tone Controls: Gain, Bass, Mids, Treble, and Presence controls that interact with your tone just like on real tube amps!
18 Cabinets selected from the world-renown Red Wire Impulses® collection!
2 Studio Quality Modulation Effects: Tremolo and Chorus
2 Delay Effects: Echo Modeler and World-Class Reverb
Noise Gate with adjustable Threshold.
Built-In Chromatic Tuner to stay in tune.
Master Volume control.
*Existing owners of Virtual Guitar Amp (VGA) and Amp Modeler Pro (AMP) qualify for upgrade.







Requires a VST, Audio Units, or RTAS audio host for Windows or Mac OS X.

sound samples: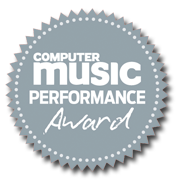 "A beautifully simple yet incredibly effective valve amp simulator at a ludicrously low price."
- Computer Music Magazine
"VGA II is so much product for so little money, and it's wrapped up in a delightfully streamlined and intuitive interface."
- Computer Music Magazine