Studio Devil Bass Box
Bass Guitar Processor Plug-In for Mac and Windows
(VST, Audio Units, and ProTools AAX)
Bass Box is an exact, faithful emulation of the Atomic Amps Bass Box Pedal, a bass player's dream processor featuring incredibly accurate and musical bass preamps, amps, speaker cabinets and effects along with technology picked from Studio Devil's award-winning Virtual Bass Amp algorithms!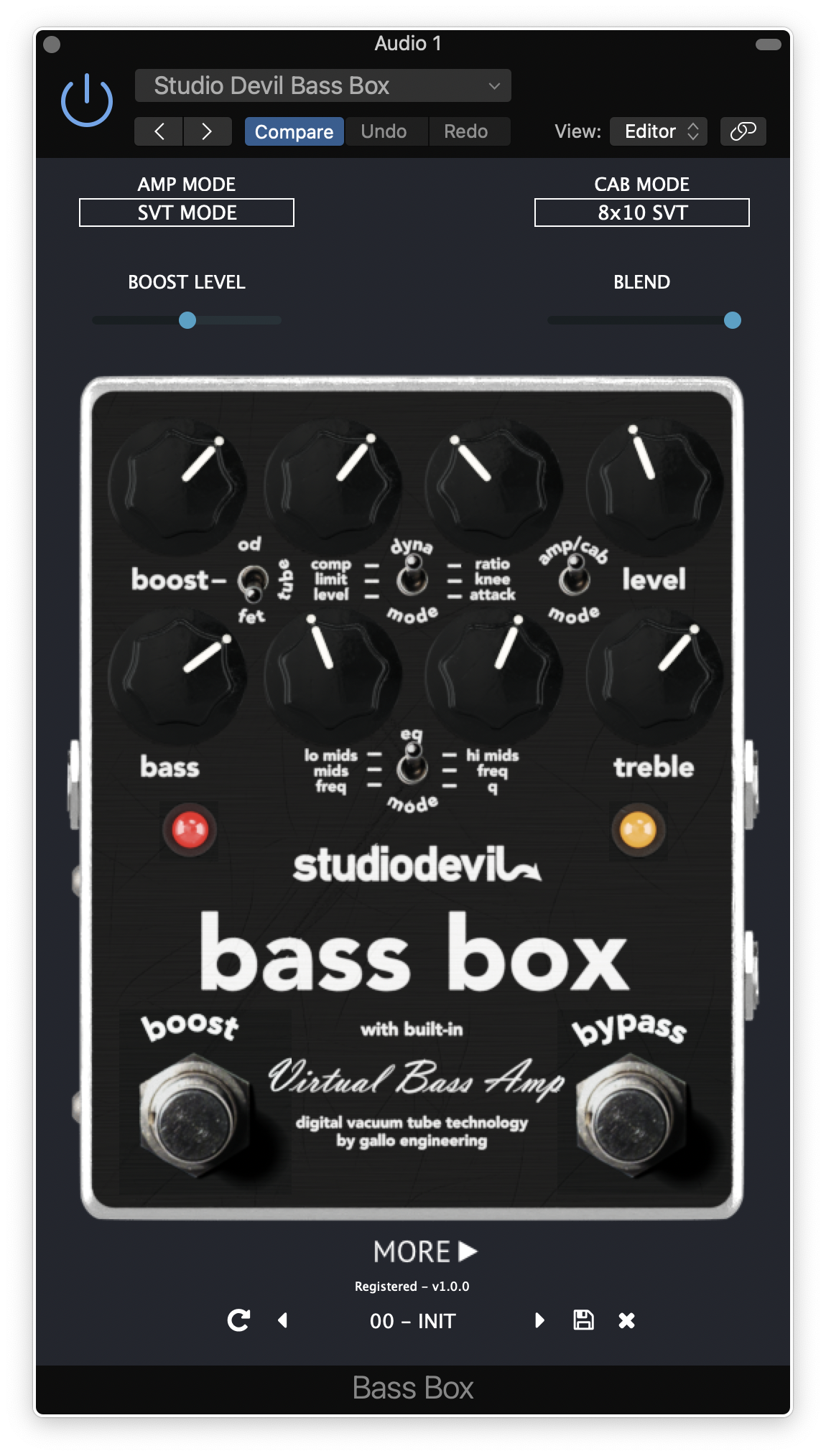 Bass Box includes a gain section with 3 modes, an EQ section with 3 modes, a dynamics controller with 3 modes, and an amp modeler with 3 slots to choose from, each with choice of amp model (including our AmpliFire SVT model) and cabinet impulse modeling (IRs). A HUGE palette of tone and dynamics sculpting options in one plug-in!!!.
Studio Devil Virtual Bass Amp Pro is a bass amp modeling and audio effects plug-in using ToneBrain™ technology for use with VST, AudioUnits, and ProTools RTAS compatible hosts running on both Mac and Windows platforms.
Features:
3 Drive Modes: OD, Tube, and FET Three different drive modes provide classic Overdrive (OD), Solid State Field Effect Transistor Drive (FET), or classic tube preamp drive based on a 12AX7A triode (tube), each using Studio Devil's patented digital vacuum tube and circuit modeling technology!
3 Compressor / Dyna Modes: Compressor, Limiter, and Leveler Three different dynamics controller modes to fir your playing style. A compressor based on the infamous dbx160a, a limiter based on tube limiting an a 6L6 tube power amp, and a leveler based on infinitely smooth gain reduction knee with feedback design.
3 EQ Modes: 4-Band, 3-Band with Parametric Mids, and 2-Band Sonic Enhancer Your perfect EQ is here, either with a 4-band EQ based on the legendary API 550b with variable Q that adjusts with level, a 3-band Parametric sweepable mids exactly like the EQ that made Studio Devil Virtual Bass Amp (VBA) famous, or a 2-Band sonic enhancer type that accurately mimics the tone of a BBE Sonic Maximizer.
5 Power Amp / DI Styles: Choose from five different output models: Tube Amp, Solid State Power Amp, SVT Emulated Power Amp, DI Box, or Clean Bypass
6 Built In Cabinet Emulations: Choose from 6 meticulously crafted built in cabinet modeling impulse responses: 1x12, 1x15, 2x15, 4x10, 8x10 Boogie, and 8x10 SVT. Or, load your own custom cabinet impulse response WAV file!
Drive Mode Footswitch toggles the drive mode on/off.
Bypass Button toggles the effect on/off.
Blend Control mixes your dry signal into your processed bass signal for added tonal variations!
Boost Level to assist in matching your boosted level to your normal effect level as desired.
*Existing owners of Virtual Bass Amp (VBA) and Amp Modeler Pro (AMP) qualify for upgrade.







Requires a VST, Audio Units, or AAX audio host for Windows or Mac OS.