Studio Devil Amp Modeler Pro
Guitar Amp Modeling and Effects Plug-In for Mac and Windows
(VST, Audio Units, and ProTools RTAS)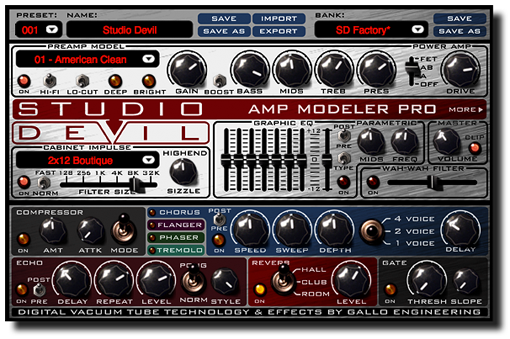 Studio Devil Amp Modeler Pro is a guitar amp modeling and audio effects plug-in using ToneBrain™ technology for use with VST, AudioUnits, and ProTools RTAS compatible hosts running on both Mac and Windows platforms. Included Studio Devil Live standalone app turns ordinary headphones into Shredphones™ / Guitarphones™
Features:
15 Preamp Models cover every range of playing styles and modeled using Studio Devil's proprietary digital vacuum tube modeling technology...nothing else sounds as real as Studio Devil because it uses exclusive and patented tube modeling algorithms!
Authentic Tone Controls: Gain, Bass, Mids, Treble, and Presence controls that interact with your tone just like on real tube amps!
Boost, Deep, and Bright Switches quickly liven up and adjust your tone!
3 Power Amp Models with Drive Control: Tube Class AB, Tube Class A, and Solid-State MOSFET to adjust natural power amp compression.
Impulse Modeler / Cabinet Processor imports any WAV or AIFF file and features Zero-Latency switch, adjustable Filter Length, and High-end Sizzle controls!
32 Studio Devil Cabinets plus 58 ReCabinet® Demo impulses included!
7-Band Graphic-EQ with Master Level, 3 Modes, and Pre/Post Switch to position your EQ either at the input of your amp or in the send-return loop: pre or post distortion!
Sweepable Parametric EQ with Mids Level and Frequency control knobs to custom tailor your tone!
Wah-Wah Effect with adjustable pedal slider for a parked-Wah sound...or assign it to a MIDI controller for a real-time Wah!
Compressor / Sustainer with two modes and Attack controls.
4 Studio Quality Modulation Effects: Chorus, Flanger, Phaser, and Tremolo all fully adjustable and can be positioned Pre/Post preamp to choose from that floor Pedal or Loop Effect sound!
Echo / Delay Modeler with Normal / Stereo Ping-Pong Modes and continuously adjustable Style Knob: sweep from Analog Delay to Tape Echo or to Digital Delay and anywhere in between!
World-Class Reverb with Level control and 3 Modes: Room, Club, and Hall.
Noise Gate with adjustable Threshold and Gating Slope controls.
Built-In Chromatic Tuner and Level Meters to stay in tune and to help maximize your signal level while guarding against digital clips.
Master Volume control with Clip indicator.
Import and Export Presets and Banks via XML files to share your tones with everyone via the Internet, email, and blogs!
Tone from hell! Desire Analog, Embrace Digital!







Requires a VST, Audio Units, or RTAS audio host for Windows or Mac OS X.

sound samples: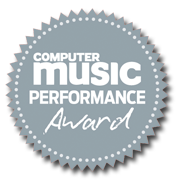 "Basically, it's everything you could possibly need to create a complete, professional-sounding guitar tone."
- Music Tech Magazine
"...the high-gain Marshall and Soldano simulations were some of the best I've heard."
- Electronic Musician